​
BÀI MẪU WRITING TASK 1 BAND 7.5 I Test 4 - CAMBRIDGE 16 I
Trong bài đăng này, IELTS Thư Đặng chia sẻ với các bạn 3  bài mẫu đã được biên soạn với Band điểm 7.5 IELTS.
Chúng ta cùng xem xét câu hỏi:
WRITING TASK 1
You should spend about 20 minutes on this task
The diagram below shows the process for recycling plastic bottles.
Summarise the information by selecting and reporting the main features, and make comparisons where relevant
Write at least 150 words.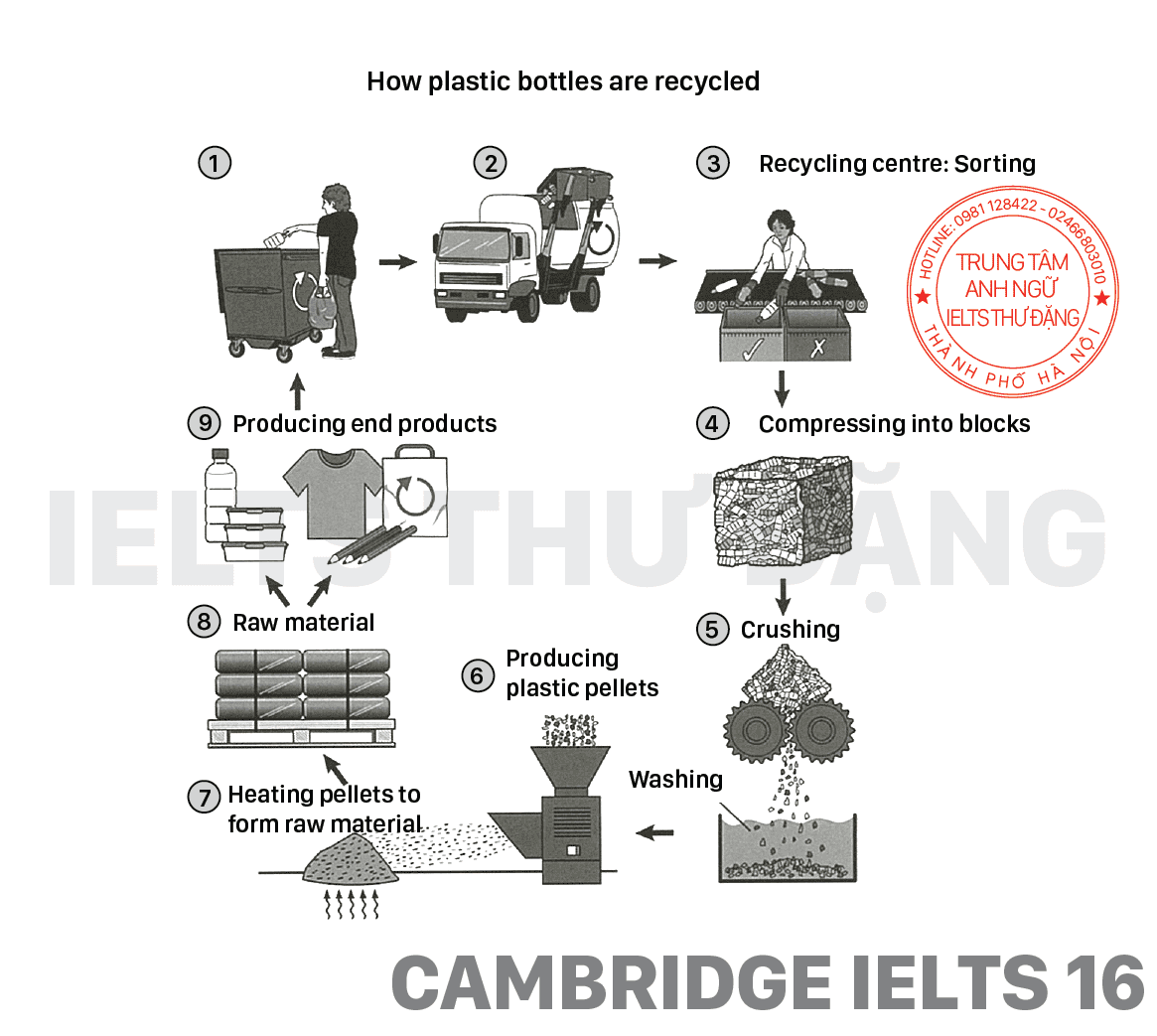 Sample No1
The given diagram illustrates the cycle plastic bottles undergo to recycle. Overall, as clearly can be seen, this process completed in nine stages; required a variety of machines and skilled workers.
The cycle initiate with discarded plastic bottles in the recycling bins. Next, the bins are collected by the recycling trucks to transfer to the recycling centre, where the bottles are sorting according to either they are recyclable or not. After that, recyclable bottles are compressed into the block. In this stage, the plastic blocks are crushed with the help of the grinder machine and the crushed plastics are washed in the tank.
In the six stages, after washing, the crushed plastics are turning into plastic pellets, the fine size of crushed plastics, through a special machine. These plastic pellets are heated to produce the raw material. The raw materials are packed before sending to a factory to manufacture recycle items such as recyclable bags, pencils, T-shirts, food containers and bottles, and the recycle cycle begins anew.
Words: 167
Sample No2
The figure depicts how plastic bottles are recycled through a process in order to produce a variety of products.
Overall, it is clear that the process by which plastic containers are recycled is a cyclical process, which consists of nine stages.
Looking at the picture in more detail, it can be observed that the first stage begins with dropping plastic bottles in rubbish bins by people. Then, specific trucks transfer these bottles to a recycling center. In such a center, which forms the third stage, the plastic bottles are arranged. After that, the sorted bottles have to be compressed into blocks to be ready for crushing. In the fifth stage, the act of crushing of the compressed bottles and washing them is accomplished.
Turning to the remaining four stages, it can be seen that plastic pellets are generated in the sixth stage. These pellets need to be heated in order to form raw material in the next stage. Then, these basic substances are packaged in a specialshape to be prepared to create various products. In the ninth and final stage, those products related to containers such as new bottles and plastic containers in different sizes, and also the products not related to containers like clothing, pencils and plastic bags can be produced. The described process begins again.
Words: 217
Sample No3
The provided cycling graph below illustrates the steps of recycling plastic bottles.
Overall, it can be seen that the whole process, from the plastic garbage to new usable products, is undergoing nine dependent steps.
Initially, the bottles are collected from garbage and carried out by an automatic garbage machine. After that, the collected items go to the sorting process leading to compressed blocks. These blocks will go under the crushing process, and afterward, the outputs will be dropped into a cleaning tank. Following the previous step, the crushed plastic goes under some machinery-based processes, making it tinier in size called plastic pellets. These pellets will experience the impact of the heating source, which transforms them into raw material. Finally, the raw material is used for producing various usable products such as pens, plastic bags, bottles, clothes, etc. Again, these products, after some time, become unusable and go for recycling and repeat all mentioned processes.
Words: 154
 ​ ​​​​IELTS THƯ ĐẶNG- TRUNG TÂM LUYỆN THI IELTS UY TÍN, CHẤT LƯỢNG TẠI HÀ NỘI
Tham khảo các bài liên quan:
>>> Kinh nghiệm luyện thi IELTS
>>> Hướng dẫn làm bài thi IELTS
IELTS - Thư Đặng Tổng hợp!
Trân trọng cảm ơn các bạn!
---
Ngoài ra các bạn có thể tham khảo thêm rất nhiều nguồn tài liệu khác ở các thư mục của Website:
---
" THAM GIA VÀO GROUP CHIA SẺ TÀI LIỆU IELTS - CÔ THƯ ĐẶNG, BẠN SẼ LUÔN NHẬN ĐƯỢC THÔNG BÁO CẬP NHẬT TÀI LIỆU MỚI NHẤT
​